guide
A guide to buying a wood-burning stove and what to look for
04 March 2021 | Stephen Marcus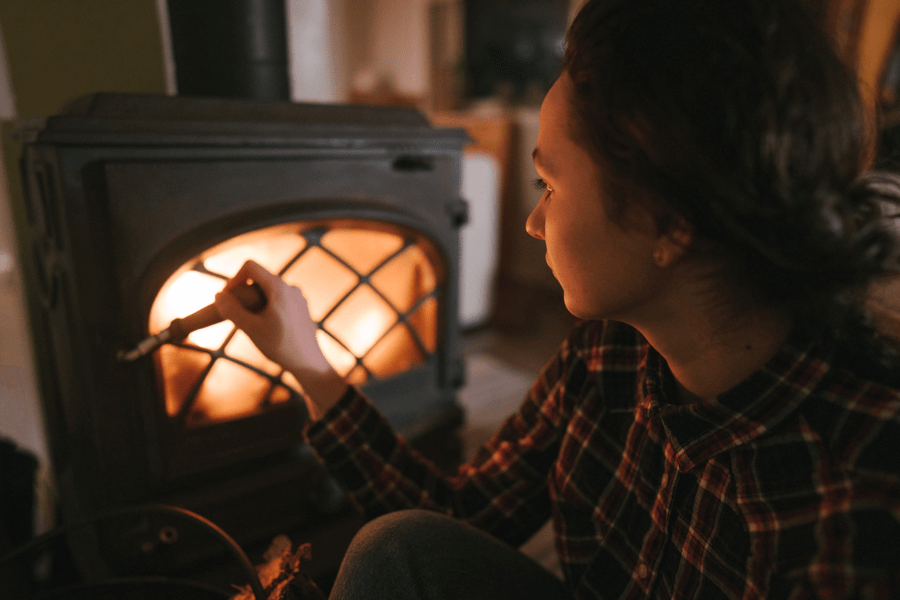 There's nothing like the crackle of a fire to make your living room cosier. If you're wondering what exactly a wood-burning stove is, or how they work, then look no further. This guide will tell all you need to know – from how to light them, to how to clean one.
Whether you want one to make your living room more cosy, or to cut your heating bills, we'll show you the different advantages and disadvantages of wood-burning stoves, and how to choose the right one for your home. 
What is a wood-burning stove?
A wood-burning stove is an appliance for – you guessed it – burning wood! There are 2 types of wood-burning stoves: log burners and pellet stoves. Unlike an open fireplace, they burn the wood inside an enclosed casing, with a pipe to take the smoke out of your home. They can also be used to burn other fuels made from wood, such as biomass.
What to consider when choosing a log burner or multi-fuel stove
Is a wood-burning stove right for you? 
While it's easy to see the appeal of a wood-burning stove, you should still think carefully about whether it's the right choice for you. 
On the one hand, wood can be considered low-carbon, compared to fuels like gas. But there's still an environmental impact – and it can affect the air quality both of your home, and the wider environment. In fact, domestic wood-burning not only triples the level of harmful pollution particles inside homes1, but it's become the single biggest source of small particle air pollution in the UK. According to The Guardian, it creates as much as 3 times more than road traffic2. 
The report also says that many people with wood burning stoves choose them for aesthetic reasons, rather than heat. If that's your main motivation, it could be worth looking into using log-effect or coal effect heaters, which are powered by electricity, and give that cosy feel without the environmental impact. And did you know Netflix, Amazon Prime and YouTube all have some lovely fireplace videos (complete with the sounds of crackling wood and roaring flames), which allows you to turn your TV into a virtual fireplace!
Looking for other ways to cut carbon while you heat your home? Check out our guide to the world's best low-carbon heating options.
What type of fuel do you want to burn?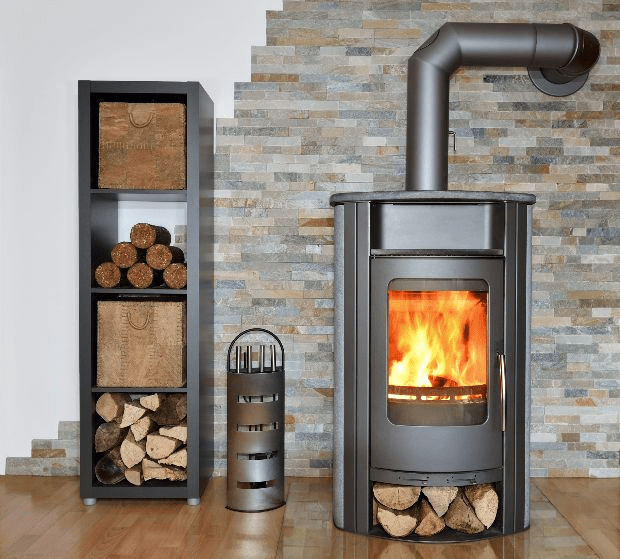 When it comes to the carbon impact of your fuel, and how it can affect the air quality in your home, there a few things to bear in mind:
Wood: Wood is sometimes considered low-carbon – this is because the carbon it gives off when burning is balanced out by the carbon it draws out of the atmosphere while growing. But this depends on where the wood's from, and how it was processed. And if you burn the wrong types of wood – like wet logs – it can produce potentially harmful gases that could be bad for your health. It's worth noting that a ban on the retail sale of wet wood will come into force on 1 May 2021.
Try and look for wood with the Forest Stewardship Council (FSC) logo. This guarantees that your logs have come from responsibly-managed woodland.
House coal: House coal isn't low-carbon – and this is especially true if it has a high sulphur content. So it's not a good idea to use this fuel. A ban on the sale of bags of house coal will also come into effect on 1 May 2021.
Smokeless fuel alternatives: They may be a bit more expensive, but types of clean-burning coal like anthracite could be better for the air quality in your home – though alas, they're still classed as a fossil fuel.
Other sources: Try checking if there's free fuel there available near you. There might be a nearby factory that would let you take material headed for the bin. It could be broken down and burnt in your log-burner instead.
Multi-fuels: If you decide that you'd like to burn both coal and wood, a multi-fuel stove would be the best option. But if you think you'd just like to burn wood, then a log burner would be your best bet.
How much space do you have to store fuel?
Ideally, you'll have a lot of space to store fuel – especially if you plan to burn logs, as they can take up a fair bit of room. You'll get through them quite quickly if you're relying on your stove for heating. Here are some things to bear in mind:
If you're burning logs, for an average-sized stove you'll use around 1 to 1.25 tonnes of wood a year3.
It's best to buy in bulk if you can – this will be cheaper, so it's the best option if you do have the space. Another way to save money is to collect wet logs and dry them yourself – but you'll need to be patient, as this can take a couple of years!
You should store them somewhere dry – ideally somewhere the wind can help dry them out, while being protected from the rain.
Do you want to heat one room in the house, or your entire home?
Log burners usually just heat one room – but it is possible to connect it to your central heating system, to spread heat to other parts of the home. Find out more in our guide to biomass energy.
Do you live in a smoke-controlled area?
Some parts of the UK have "smoke-controlled" rules. This means you have to get a stove approved by the Department for Environment, Food and Rural Affairs (DEFRA) if you want to burn wood.
If you don't have a DEFRA-approved stove, you can still burn smokeless fuels (like anthracite) on a multi-fuel stove – but you can't burn wood. But we'd always recommend getting an approved stove, which will help you keep your carbon emissions lower.
Visit the DEFRA site to find out if you live in a smoke-controlled area, and to see an approved list of smokeless fuels.
How often will you be at home to light a fire, maintain it, and clean up afterwards?
While they're a warm and cosy addition to your home, there's no denying that log-burners involve more work. You can't simply switch them on and off, like an electric heater. 
This is worth bearing in mind when you're considering if they'll suit your lifestyle. You'll need to spend time getting the fire started, keeping an eye on it when it's going, and tidying up once it's died down. And you'll also need to get the chimney swept at least once a year.
Will you be able to comply with building regulations?
All stoves need to follow UK building regulations – so you'll need to make sure yours meets the rules. Here are some of the things you'll need to consider:
How the flue is fitted, so gases can escape outdoors
The size of hearth, and how far the stove is from combustibles
The size of your home, and the setup of your chimney(s)
These factors can all affect the type of stove that you buy. Speak to your installer, and take a look at the HETAS guidelines on building regulations.
Can you still have a wood burner if you don't have a chimney?
Yes, you can! You can do this with a "twin wall" system. Here, a flue is installed in an exterior wall or roof, so that smoke and gases can escape, as they would through a chimney4.
Getting the right wood burner or multi-fuel stove for your home 
When it comes to picking the right log burner or multi-fuel stove, there are 2 things to consider – the size of the stove, and how much heat it'll produce. When it comes to heat, this is measured in kilowatts (kW). Stoves range from 3kW to 15kW.
As you'd expect, if you get a stove that creates too much heat for your home, then you'll be too hot! You could end up needing to keep the windows open, or you might have to run the stove at a lower temperature. Both options are an inefficient way to use energy – and running the stove on low would also create more tar and smoke.
Discover more tips on how to make your home more energy-efficient, with our tell-all guide.
What size wood burner will you need? 
And when it comes to size, you'll need to consider:
The size of the room where the stove will be fitted
The layout of the room and your house – such as whether it's open plan, as this will affect the air flow 
The

type of windows

– how big are they, and are they double glazed?
Insulation – is there

solid wall

or

cavity wall insulation

?
How old your home is – as this will affect

how efficient it is
How much will a wood burner cost?
The cost of a wood-burning stove can vary:
For the stove itself – this can start as low as £400, and can go all the way up to £4,000 for the priciest models5. The more expensive the model, the more efficient it'll generally be – but you definitely don't need to go for the most expensive models to get a good quality stove.
For the installation – a typical installation will cost around £1,500, depending on how much work is involved6. If you don't have a chimney, it'll cost around £2,000, depending on the size of the job7.
Once the stove is in place, all you need to think about is the wood. As we said, if you have the space then it's best to buy it in bulk. And if you've got the time, then you can save even more money by collecting wet logs, and drying them yourself at home.
Who can install your log burner?
We'd recommend hiring a HETAS-registered engineer to install your log burner. They're the government-recognised body for solid fuel safety and standards, so you can be sure that registered engineers will be reliable.
Search their database of registered installers of solid fuel, wood and biomass appliances, to find a professional near you.
Will a wood burner save you money? 
It's difficult to say for sure – but the answer is yes, maybe! A survey by Which? found that 52% of the people thought that it had helped them save money on their bills. But 37% thought that it hadn't made any difference.
Want to save energy and cut carbon at home? Check out our 120 tips for saving energy, and our guides to saving electricity at home and reducing your carbon footprint.
Is a log burner cheaper than gas?
According to the Energy Saving Trust, a gas central heating system is usually the cheapest way to heat a home. So in most cases, a log burner won't be cheaper than gas. But remember, cheaper doesn't always mean the best for the planet – so it's also worth weighing up the higher carbon emissions of gas heating systems. According to the UK government, carbon emissions from a wood stove are at least 14 times lower than emissions from a gas boiler8.
Gas vs electric vs wood-burning stove
Are you thinking about a gas or electric stove as an alternative to a log burner? Here are some things to bear in mind:
Gas fires –

gas is cheaper than electricity

, and easier than buying and storing logs. And a gas fire can produce as much as 6kW of heat, which is more than enough for some homes. But it will need to be installed by a Gas Safe-registered engineer, and you'll need to get it serviced at least once a year. But on the flipside, as we've highlighted already, they do produce more carbon.
Electric fires – while they're cheaper to buy and install, electric fires cost more to run, with electricity being more expensive than gas or wood. You also won't get as much warmth as with gas, with the maximum heat being around 2 kW. And they're just not as cosy as a traditional-looking fire. But, if you're getting 100% renewable electricity (like we offer here at OVO), electric fires are definitely better for the environment than wood-burners.
Wood-burning stoves – log burners are more expensive to buy than gas or electric stoves, and they can also be costly to install, depending on your home. You'll also need storage space for wood – and, like with gas, you'll need regular maintenance. And you also need to be mindful of the fact that they can affect the air quality, and there's no getting away from the fact that they aren't great for the environment. 
What wood should you buy?
The best wood will always be well-seasoned hardwood logs. These will be lovely and dry, and ready to burn. Try and look for wood with the Forest Stewardship Council (FSC) logo – this will mean your logs have come from responsibly-managed woodland.
You can also get kiln-dried logs – but they'll have a bigger carbon footprint, as the kiln needs energy to heat up.
And as we said before, how you buy wood depends on how much space you have. Ideally, buying in bulk will be cheaper. And if you want to save money, collect wet logs and dry them yourself – though you'll need to plan in advance!
Why stove efficiency is so important
Stove efficiency is one of the key things to bear in mind when you're looking to buy one. This is because UK building regulations ask for a minimum level of energy-efficiency in new stoves. It's 65% for standalone stoves and 70% for pellet stoves.
And new EU laws coming into force in 2022 are an even greater reason to get the most efficient stove possible. Here's what you need to know:
The new rules will be stricter, and based around "seasonal efficiency" – so while the figure for standalone stoves is still 65%, a stove will need to produce a certain amount of heat, to meet average energy consumption. 
There will also be new maximum limits for pollution, limiting the amount of smoke and carbon they produce.
Any new stoves or log burners made and sold in Europe after 1 January 2022 will have to be independently tested, to check that they meet the new rules.
The Government-backed body HETAS has introduced an Ecodesign scheme, so you can see which stoves meet the new rules on efficiency. You can find out more about Ecodesign and stove efficiency on the HETA website.
Are wood-burning stoves going to be phased out?
While there's been some talk on whether the government will phase out wood-burning stoves, DEFRA's latest Clean Air Strategy says that they're not planning to ban them.
But they do want to make sure that all new stoves sold meet stricter efficiency rules by 2022 – and they plan to teach consumers ways to use stoves that reduce pollution and emissions.
Top tips for lighting your stove 
It can be easy to make some rookie errors when you're lighting your stove. For example, some people load the stove with newspaper –but this just creates more smoke, and not much fire! Instead, follow these steps and you'll have a roaring fire in no time:
Keep a good bed of ash laid down on the bottom of the stove, as it'll help your fire to ignite.
Pull open the air vents on your woodburner.
Stack your kindling so that you create a square space in the middle. Lay 2 pieces flat on the bottom of the stove, then another 2 at a 90° angle, to create a square. Repeat this until you have a 4-stack or 5-stack tower, with space in the middle.
Light a firelighter and drop it down into the gap. The wood coils dipped in wax type are ideal.
Push the door shut, but don't lock it with the latch. You want to allow a little air to get in.
Once the kindling is roaring, stack a log or 2 on top, and lock the door.
Keep the vent fully open until the logs catch fire, then close it gradually until the logs are burning steadily. And voilà!
Want to save money on your heating bills, and cut your carbon footprint? Get a quote in 2 minutes 
Switch to OVO and you could lower your carbon footprint, and enjoy competitively-priced green energy. Plus, you could benefit from:
100% renewable electricity as standard9
A 5 Star

TrustPilot

rating by 30,000 members
A tree planted for every year you're with us10
3-5% interest for every year your account has a positive balance11
A £50 gift card every time you introduce a friend to OVO
Sources and references:
1.  https://www.theguardian.com/environment/2021/feb/16/home-wood-burning-biggest-cause-particle-pollution-fires
2.  https://www.theguardian.com/environment/2021/feb/16/home-wood-burning-biggest-cause-particle-pollution-fires
3.  https://www.which.co.uk/reviews/wood-burning-stoves/article/wood-burning-stoves-what-you-need-to-know/how-much-do-log-burners-and-multi-fuel-stoves-cost-aNq838e1dXf7
4.  https://www.stovesonline.co.uk/Twin-wall-flue-systems.html
5/6/7.  https://www.directstoves.com/resources/how-much-do-wood-burning-stoves-cost/
8.  https://www.winacc.org.uk/downloads/STAP/2017_Wood%20burning%20stoves%20Layman-1.pdf
9.  The renewable electricity we sell is backed by renewable certificates (Renewable Energy Guarantee of Origin certificates (REGOs)). See here for details on REGO certificates and how these work.
10.  Each year, OVO plants 1 tree for every member in partnership with the Woodland Trust. Trees absorb carbon dioxide from the atmosphere, so tree-planting helps to slow down climate change.
11.  Interest Rewards are paid on credit balances of customers paying by monthly Direct Debit. It is calculated at 3% in your first year, 4% in your second year and 5% in your third year (and every year thereafter) if you pay by Direct Debit.
View more from these categories