guide
Gas vs oil vs electric heating: which option is right for you?
01 February 2021 | Celia Topping

Which household bill do you pay the most for? More than likely you answered "heating", right? You're not alone. Heating costs make up over half of the UK's household energy bills1. Of course, when it comes to staying cosy over winter, there are a few different fuels to choose from.
So let's compare the cost of heating your home using gas, oil or electricity, and explore a few new ways to be more energy-efficient and reduce those bills. And, because we're OVO, we'll also offer a few handy hints on how to cut your carbon footprint and fight climate change, while we're at it! 
What are the pros and cons of gas central heating?
Around 23 million UK homes use gas central heating. Out of a total of about 29 million, that's a huge majority. So why is gas so popular?
What are the advantages of gas central heating?
Gas is by far the cheapest option, at

4.17 p per kWh

(

kWh

is the unit used to measure energy). 
Modern condensing boilers are very efficient – meaning up to 90% of the energy is used.

Whether you choose combi, system or conventional

, the law now says they must all be condensing. 
Piped straight into your home, this energy source is super-reliable, and needs no storage.
It's really easy to control – you can turn it on and off easily.
What are the disadvantages of gas central heating?
Find the right gas boiler for you with our useful guide. And remember, at OVO, an upgrade to OVO Beyond gives you 100% carbon-neutral gas2, meaning you can keep your carbon footprint to a minimum. 
What are the pros and cons of electric central heating?
Only 2 million UK homes are heated with electricity. Let's find out why. 
What are the advantages of electric central heating?
Although some rural homes may not be on the gas mains supply (so are unable to use gas central heating), most homes can connect to the electricity grid. 
Installing an electric system is usually cheaper than gas. Although

underfloor heating

can cost a lot more. 
Very little maintenance is needed for an electric system, which means you don't have to worry about annual servicing. 
Increasingly, electricity is being generated from

renewable, sustainable sources

, which is great news for the environment. This makes electricity the most eco-friendly of the 3 fuels we're comparing here. At OVO, we supply 100% renewable electricity3 as standard, from a range of

renewable sources

such as

wind

,

solar

, and

hydro

.
Energy plans like

Economy 7

and

Economy 10

could help you pay less for your electricity – though this depends how and when you use it. 
Unlike gas central heating, electric heating systems are almost silent. 
Modern

storage heaters

are super-energy-efficient, and work well with

smart tech innovations

like

smart thermostats

. 
What are the disadvantages of electric central heating?
At around

16.36 p per kWh

, electric heating bills can be pretty high. 
About 40% of electricity is produced via gas-power stations, which means higher carbon emissions. 
If you use night storage heaters and haven't had the heating on lately, you won't get the heat until the following night.
What are the pros and cons of oil central heating?
What are the advantages of oil central heating?
If you're not on the National Grid for gas, oil is a good alternative, as it can be delivered anywhere. 
Cost is still relatively low, at

4.81 p per kWh

. 
Oil is an efficient fuel, particularly with the latest modern boilers. If you have an old boiler, it's pretty quick and easy to replace. 
Oil is flammable – but it's not quite so prone to explosion as gas. 
When oil prices are low, you can stock up. 
It's easy to control and gives you heat when you need it.
What are the disadvantages of oil central heating?
In line with the national plan to be net zero carbon by 2050, the UK government has begun to phase out oil boilers – so no new ones can be installed after 2025. 
Installation from scratch is tricky and expensive. 
Oil has to be delivered by lorry and pumped into the tank – so you'll need to make sure you have the appropriate space and accessibility. Having a huge tank in your back garden is also not the prettiest feature! 
You need to keep an eye on the level in the tank, and remember to order a refill in good time, before it runs out.
Your boiler and tank will need yearly maintenance. 
If you're keen to be green, oil is not the way to go. It creates far more carbon emissions than gas. 
Read all you need to know about oil central heating in our new practical guide.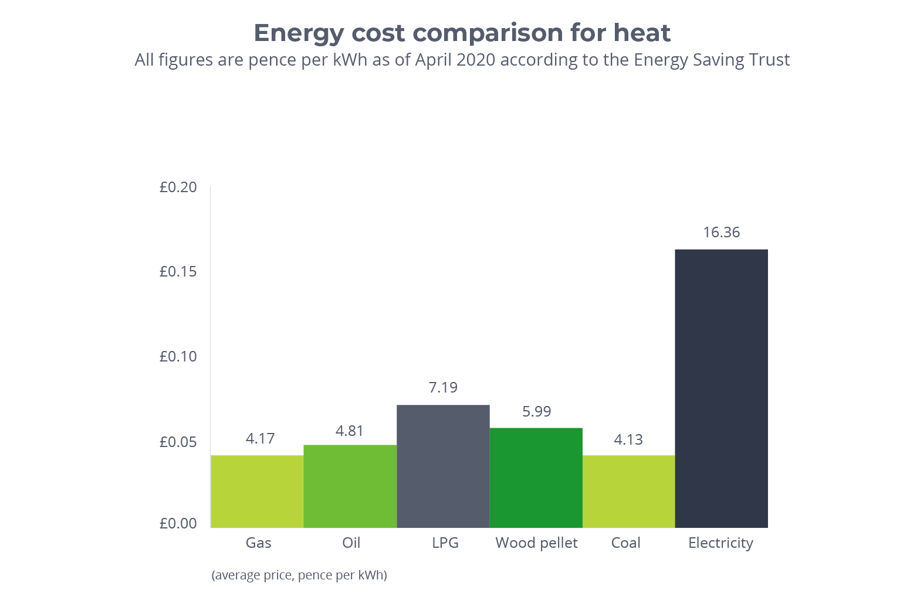 Installation costs of different heating systems
So you've read the pros and cons of each system, Now here are some examples for installing different heating systems. Plus we've thrown in a couple of green solutions for good measure! 
Electric storage heating
Once bulky, clunky and inefficient, storage heaters are now smart, modern and energy-saving. Check out our guide on how you can benefit from the sleek, lower-carbon alternative to gas central heating. Approximate cost: £1,000-£2,000
Gas combi boiler
A single unit that gives you both your hot water and space heating – it takes up less room than other types of boiler, and gives you instant hot water as soon as you turn on the tap. Find out more in our handy guide. Approximate cost: £2,500- £4000.
Oil fired boiler
If you're not on the mains gas grid, an oil central heating system could be your best and cheapest option. And it's more efficient than gas! Approximate cost: £4,000-£6,000
Air source heat pump
Air source heat pumps have moved the goal posts when it comes to central heating. Think out of the (boiler) box, and find out more about this low cost, low carbon alternative to heating. Approximate cost: £9,000-£11,000
Ground source heat pump
If you're searching for a greener, more efficient, low maintenance option to heat your homes, step this way! Using only the heat from underground, this low-carbon solution could be just what you're looking for. Approximate cost: £14,000-£19,000
5 ways you can reduce your energy bills
Depending on how you heat your home, here are some other ways you can cut your energy bills:
1. Switch to a better energy tariff
Many people stay with the same supplier year after year, long after their agreed tariff has come to an end. This means they've probably been shifted to their supplier's default, and most expensive, tariff. It's worth comparing energy suppliers, and finding out how much you can save if you switch. 
There are so many energy tariffs available these days, it really does pay to shop around. At OVO, we have various home energy plans to fit your needs. All of them come with 100% renewable electricity4 as standard, and we plant a carbon-munching tree5 in your name, every year you're with us. 
2. Take control of your heating
Here are 3 simple ways you can reduce your bills, and your carbon emissions by being more efficient with your heating:
Turn your thermostat down by one degree. If everyone in the UK did this, we'd stop over 8 million tonnes of carbon being released into the atmosphere per year6. 
Time your heating sensibly. You don't need a warm house when you're sleeping, or away from home. Time the heating so that you wake up, and arrive back to a cosy home. 
Find the

ideal temperature for each room

. Some rooms need to be warm, like living rooms and bathrooms. But having a hot bedroom while you're watching telly downstairs is just a waste of energy. Using

radiator valves

to zone your rooms can save you a lot of money.
Read our blog to learn how to

stay warm over winter without using so much heating

.
3. Track your energy use with a smart meter
Another way to control your energy use is through your smart meter, and its handy portable companion, the In-Home Display (IHD). An IHD is the most effective way to track your energy use, and reduce bills. As a result, IHDs now come as standard with every smart meter. 
Don't yet have a smart meter? New members to OVO Energy benefit from our affordable Better Smart home energy plan, and get a smart meter installed for free by our award-winning smart meter team7. 
4. Find out the many ways you can insulate
Insulating your home is one of the quickest ways to cut your bills and lower your carbon footprint. There are many ways you can do this, and it can make a real difference really quickly. Plus, much of what you can do will pay for itself within 2 to 5 years – such as loft insulation, draft proofing, cavity wall insulation, and insulating your hot water cylinder. 
Other technologies like external wall insulation, thermal walls and double-glazing cost more, and take longer to pay back, but will make a huge difference. Use our handy blogs to find out how these different types of insulation could save you money:
As you may know, insulation can be expensive – but fear not! The UK government has extended the Green Homes Grant deadline for an extra year, to March 2022. Households could gain up to £600 a year in savings on energy bills, and the scheme should also help to support over 100,000 green jobs8. 
5.Get a smart thermostat installed
Basically, smart thermostats help you control your heating from wherever you are – even if you're not at home – from your phone, tablet, or other device. Find out how you could benefit from getting a smart thermostat installed, to make your home more energy-efficient.
What are the best green alternatives to traditional gas, oil and electricity heating systems?
As the world moves towards a greener, more sustainable future, we're constantly looking for better, more renewable ways to heat our homes. Read our useful guides to tell you everything you need to know about the low-carbon heating solutions making home energy cheaper, more sustainable, and more efficient:
Hybrid systems
Hydrogen boilers
The UK Government's Renewable Heat Incentive (RHI) scheme currently offers quarterly cash payments, just for installing a carbon-kicking green heating system at home. Find out more on our blog.
Wrapping it up
Here are a few key takeaways from this guide on heating costs:
Get a quote from OVO Energy today, to find out how much you could be saving with our home energy plans.
Sources and references:
1 https://energysavingtrust.org.uk/advice/heating-and-hot-water/
2 By providing 100% carbon-neutral gas (15% green gas and 85% offset) and offsetting all associated lifecycle carbon emissions involved in the production and consumption of your electricity & gas, OVO Beyond reduces your yearly carbon emissions from the energy used in your home that's supplied by OVO to net zero
3 The renewable electricity we sell is backed by renewable certificates (Renewable Energy Guarantee of Origin certificates (REGOs)). See here for details on REGO certificates and how these work. 
4 The renewable electricity we sell is backed by renewable certificates (Renewable Energy Guarantee of Origin certificates (REGOs)). See here for details on REGO certificates and how these work.
5 Each year, OVO plants 1 tree for every member in partnership with the Woodland Trust. Trees absorb carbon dioxide from the atmosphere, so tree-planting helps to slow down climate change.
6 If all of us in the UK turned our thermostats down by just 1 degree, we'd prevent 8.8 million tonnes of carbon entering the atmosphere each year. We know this because turning the thermostat by one degree you can save 320kg of carbon a year, or 0.32 tonnes (Source: Energy Saving Trust). And we multiplied this by the number of households in the UK (ONS, 2018).
7  https://www.uswitch.com/gas-electricity/guides/uswitch-energy-awards-2019/
8 https://www.gov.uk/government/news/quality-assurance-at-heart-of-new-2-billion-green-homes-grants
View more from these categories